It's getting closer. With just 6 weeks to go, Christmas is nearly here. I honestly can't believe how quickly it comes around!
So, with so many things to organise including food, party glad rags, childrens teachers presents, family Christmas presents and a gazillion other things, my mind turned to who would be the ideal people to gift home fragrance to. I thought I'd draw up a list & share it with you. It's kind of informal so please do excuse 🙂
Mum – My mother loves our wax tarts and flame free scenters. She pops the scenters everywhere around the house. You name it, flame free scenters are there. From bathroom to kitchen, living room to bedroom. She even puts them in clothes drawers as they last so long! Her favourite is Baby Powder but it's time to introduce her to some of our new scents. Check!
Sister #1 – A huge fan of our new Elegance Candles. Burning all the time at her house. My brother in law even lights them before she comes home so the scent is well on it's way before she gets in! Her favourites include Baby Powder & Red Hot Cinnamon. Brother in law just loves the cinnamon 🙂 Add a few new scents to the mix – Check!
Sister in law#1 – A huge help to us. Loves labelling jars – Result! Fabulous selection of our Bath & body products 🙂 Check!
Sister in law #2 & #3 – A lovely Premium Candle – Perfect & of course, check!
Aunties, great aunties & more – One of our new Mini Christmas Gift Baskets will fit the bill. Everything you need for a bit of Busy Bee in one super cute Gift Basket. Check!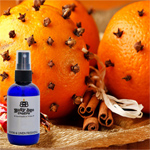 •Friends, Childrens Teachers – These guys need something special that doesn't cost a fortune. New Room & linen Freshener Sprays I think.
So, I've made a start. That was easy! 🙂 If you would like to get some inspiration, take a look at some of our gifts here.
Hope you have a stress free Christmas shop & let's hear it for Jingle Bells!
Dee xx