How To Use Busy Bee Candles Hot Shots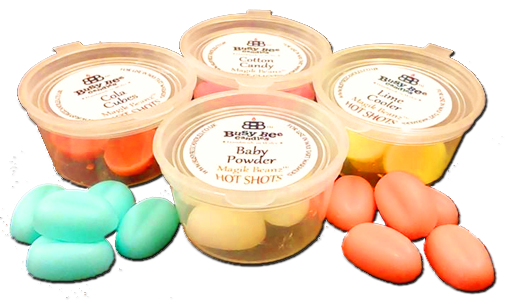 Place a minimum of 2 Hot Shots in the reservoir of your tart warmer (tea light or electric warmer).
You can use a single fragrance for a huge hit of your favourite or mix various scents to create something new and possibly unique to you! Take a look at our Magik Beanz and Hot Shots Recipes for inspiration – Hot Shots Recipes.
Light a tea light beneath & sit back (or switch on your electric warmer). The fragrance wave is on it's way!
Add more Hot Shots of the same scent or experiment with other scents as takes your fancy.
Clean your burner by following our short guide (not for electric warmers) – Clean Wax Tarts From Burners
Start all over again with a fresh batch of Hot Shots when you feel like it or the fragrance has diminished.
Hot Shots are the strongest scented home fragrance wax tart product we know of. They come to you in lovely little resealable pots with 5 Hot Shots per pot. Take a look at our full range, around 200 fragrances, here – Hot Shots. Most of all, have fun experimenting with Busy Bee Candles Hot Shots.
Caution – Only use Busy Bee Candles Hot Shots if you enjoy very strong home fragrances. Hot Shots Wax Tart Melts are much stronger than any other wax tarts we know of. Start off with just a couple of Hot Shots Beanz and we are sure you will be amazed at the strength and volume of throw.
Just came across u by accident…. Have always been an avid Yankee user … But am now changing to busybees …. Can't wait to start ordering and receiving …. I feel like a kid at Christmas lol … So much to choose from !!!!!
OMG I love the hot shots! Very strong!
Bought some small pots in a local gift shop to try , wow, they are stunning and really last ages. As previous commentator said used to use Yankee but will now be buying busy bees. Have just placed my 2nd order from website. So many to choose from and really great prices!!