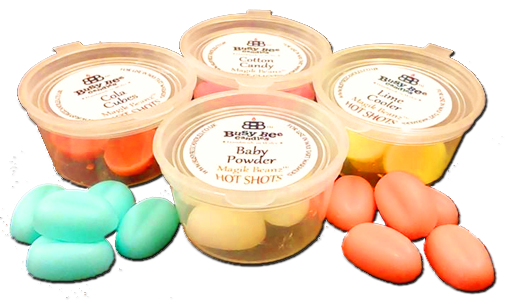 Amazingly fragrant mini wax tart melts to use in your tart warmer. Super strong scent throw and intended to be used in groups of a single scent or groups of mixed scent to create your very own fragrances. There is a world of fragrance for you to invent and play with!
These are the most powerful wax tart melts we know of. 25% stronger than our already strong Magik Beanz!
Experiment with different fragrance combinations and most of all have fun blending your own Hot Shots fragrances.
Each pot of Hot Shots contains 5 amazingly strong Magik Beanz. Use 2 Hot Shots Beanz to begin with and adjust to suit your preference by adding more.
SELECT YOUR FRAGRANCE GROUP
Busy Bee Candles Hots Shots are designed to be mixed. Use, 1, 2 or more scents to create your own unique scents. Blend Orange Pop with Sherbet Lemon or Cola Cubes With Lush Cherry. The possibilities are almost endless!
Take a look at some of our suggested recipes
Removing Busy Bee Candles Wax Tarts From your Oil Burner
It's a common problem to be sure. You've found your favourite Busy Bee Candles wax tarts but you don't want to wait for one to finish to try your next scent. They do last a very long time after all.....